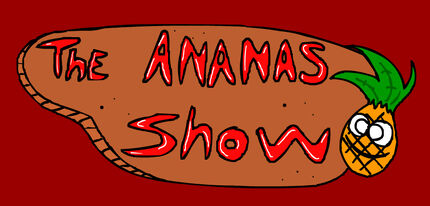 The ananas Show was a private collection of comics that portrayed VampireMeerkat as the host of her own TV-show. The general purpose was to entertain her real-life friends in (junior) high school. This was mainly in 2003 and 2004. All comics are in Dutch.
The most recurring segment was The Talk Show, where she'd pretend to interview known celebrities and her friends during times they'd be fighting with each other, or just requested an appearance. There were also parodies of existing commercials and other TV-shows, like Buffy the Vampire Slayer, Saved by the Bell and Braceface. Entire scenes from The Lion King were also redrawn and added, as the artist was a huge fan during that time.
A few segments were uploaded to Lionking.fanart.org in 2005, but the Dutch dialogue was not translated.
Origin
VampireMeerkat and her friends used to pass around a notebook during class where they'd write to each other, opposed to using pieces of paper and potentially getting caught by their teachers. They agreed to each take a turn bringing an empty notebook after their current one was full. The things they said to each other were usually accompanied by a cartoon character (of themselves) saying it.
This trend eventually lead to the creation of entire comics by VampireMeerkat; soon dubbed "The ananas Show". It became customary that every notebook received at least one of these, which took around 2 or 3 days to complete, whereafter the notebook returned to school and the discussion continued. Often there'd be a vote at the end on what segment was perceived the best.
The person who owned the notebook was the one to keep it, though they now and then lent out their respective notebooks to each other, so everyone could read back old conversations and stories.
Because this friendship/contact didn't last, the majority of the comics have been lost and aren't in VampireMeerkat's possession.
Gallery
Trivia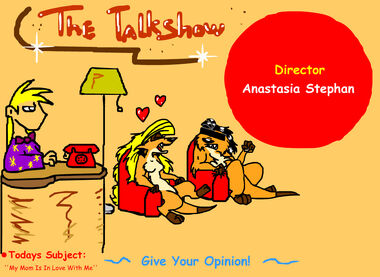 "Ananas" was VampireMeerkat's nickname in late elementary and early years of high school, because it sounded similar to "Anastasia", which some of her friends found too long to say;

"Ananas" means "pineapple" in Dutch, thus the fruit became a logo of which the leaves resembled the host character's hair.

The Lion King comics also came with original short stories and once had the host character transform herself into a meerkat the same manner the characters from W.I.T.C.H. transformed. This meerkat character was kept and dubbed "Deirdre".
The show's title was used as an introduction clip in multiple animations at Lionking Fanart.org;

In one animation a full reference is made to the comic series, specifically The Talk Show.

The later notebooks belonging to VampireMeerkat had "Hakuna Patata" written on the cover;

It referred to a self-written, unpublished parody of The Lion King song, revolving around fast food.
See also
Community content is available under
CC-BY-SA
unless otherwise noted.